Cross Cultural Conversations brings Saskatchewan filmmakers Janine Windolph and Trudy Stewart to Nova Scotia to engage with Nova Scotia film and theatre artists, students and Indigenous communities to explore themes of reconciliation and how we can de-colonize our approach to sharing stories. Through discussion, artist presentations, screenings and interactive Forum Theatre, the public was invited to take part in the conversation. Events took place in Halifax, Millbrook First Nation and We'koqom'a First Nation Cape Breton.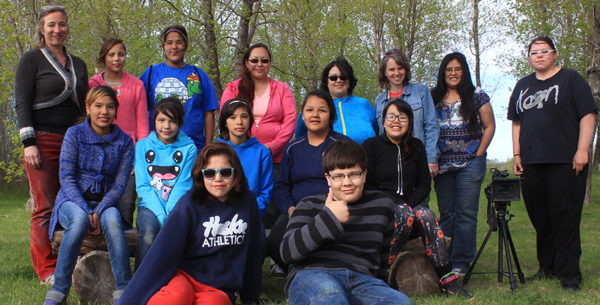 Video Performance Project — Nisto Awasisak Memorial School, Cumberland House Cree Nation
CCC was organized by Halifax filmmaker, Ann Verrall, who has over fifteen years experience facilitating cross cultural dialogue in the arts. In Saskatchewan Ann has done several video projects with filmmakers Trudy Stewart and Janine Windolph and theatre artist Michele Sereda in First Nations communities. In Nova Scotia, Ann has facilitated numerous collaborative video projects with Indigenous, African Nova Scotia, Acadian and LGBTQ communities.
In Memory of Michele Sereda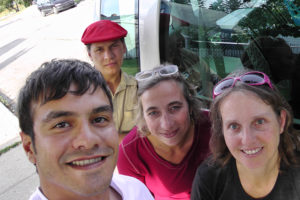 Gabriel Yahyahkeekoot, Ramses Calderon, Michele Sereda, Ann Verrall heading to Sandy Bay
I was in my early days of working cross culturally in Nova Scotia when crossed paths with Michele Sereda in Regina, Saskatchewan. This meeting led to a collaboration that lasted for the next six years until Michele's tragic death in February 2015. Michele had a long history of doing theatre-based projects with Indigenous communities in Saskatchewan and she invited me to join her. We did one project each year traveling to Piopot First Nation, Sandy Bay, La Ronge, Cumberland House. For the La Ronge and Cumberland House projects we partnered with Mispon: a Celebration of Indigenous Filmmaking and filmmakers Janine and Trudy.
 After Michele's death we all felt the massive hole left by her departure. The idea of Cross Cultural Conversations grew out of a personal desire to honour the memory of Michele and to acknowledge her profound impact on our development as artists working cross culturally. CCC is our first project together since Michele's passing. Her presence was still very much part of this experience.

We acknowledge the support of the Canada Council for the Arts, which last year invested $153 million to bring the arts to Canadians throughout the country.
Nous remercions le Conseil des arts du Canada de son soutien. L'an dernier, le Conseil a investi 153 millions de dollars pour mettre de l'art dans la vie des Canadiennes et des Canadiens de tout le pays.